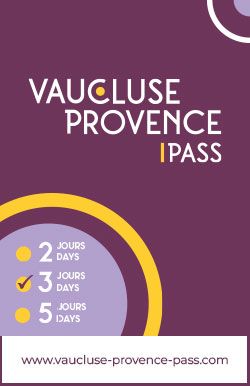 Product description
Spend less and visit more of the Vaucluse, Avignon, Villeneuve and the region with the Vaucluse Provence Pass!
The Vaucluse Provence Pass is valid for 3 days; you can spread your visits over a 10-day period (for example, schedule your visits on Mondays, Thursdays and Saturdays).
1 calendar day of use means from morning to evening, whatever the time of first use.
It gives you free access to many tourist sites, discounts on certain activities and 24-hour parking in one of Avignon's three parking areas, if you've added this option to your card! (1 rate/car).